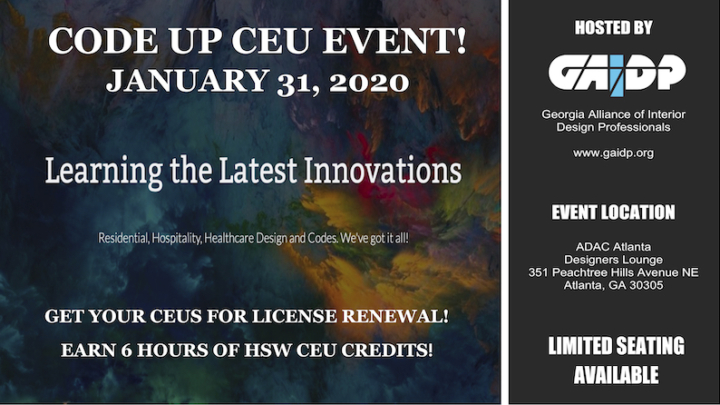 GAIDP | Code Up CEU Event
Description
20/20 Code Up! A vision for the Future
Friday, January 31, 2020
2020 GAIDP CEU Event at ADAC | GAIDP will host a full day (6 credit hours) of CEUs that are accredited by IDCEC for interior design professionals. The presentations will feature local officials and industry experts, who will provide in-depth information on several topics affecting architecture and interior design professions.
EVENT SCHEDULE
8:00 AM: Registration and Continental Breakfast

8:45 AM: Opening Remarks

9:00 AM: Session 1 | Green Sustainable Materials for Building Interiors

10:15 AM: Session 2 | ADA Accessibility in Georgia

11:30 AM: Session 3 | New Codes and Rising Mechanical Costs in Office Buildings

12:30 PM: Lunch

1:30 PM: Session 4 | Georgia MEP Code Update Requirements 2020

2:45 PM: Session 5 | New Lighting Codes in Georgia

4:00 PM: Session 6 | New Life Safety NPFA 101

5:00 PM: Completion of CEU Certificates
9:00 AM | GREEN: SUSTAINABLE MATERIALS FOR BUILDING INTERIORS
GAIBC, IDCED, LU/HSW

Why focus on interior Materials?

Understand Materials and Resources Credits – Overhaul in LEED v4.

Optimize material selection when designing sustainable spaces.
10:15 AM | ADA: ACCESSIBILITY IN GEORGIA
Understand how the ADA and GA Code relative to accessibility are structured

Clarify how GA Code and Regulation differ from Federal Law and standards

Point out common errors in construction relative to the standards

Provide recommendations to avoid common problems

Share references to obtain answers to questions.
11:30 AM | NEW CODES AND RISING MECHANICAL COSTS IN OFFICE BUILDINGS
The effect of Gender-Neutral Restrooms on Mechanical Systems

New Energy Code Requirements and its effects on Mechanical System Costs

Energy Recovery: where is it required and how do we interpret the requirements?

New Economizer requirements for HVAC equipment and important considerations for new construction

Compliance path: How do we make this an easy decision?
1:30 PM | 2020 GEORGIA MEP CODE UPDATED REQUIREMENTS
Summary of newly adopted Georgia Codes

Energy Code compliance available paths

IECC vs. ASHRAE 90.1

IECC

ASHRAE 90.1

Mechanical Equipment efficiencies

Economizers

Electrical Changes

Electrical Code

Lighting Controls

Lighting Power Density allowances

Receptacle Controls

Mandatory Commissioning

Commissioning types

Systems requiring conditioning
2:45 PM | EXIT AND EMERGENCY LIGHTING FOR ARCHITECTURAL SPACES
Exit and Emergency Lighting Codes

Equipment Options

Lighting Control Regulations

Challenges with Connected lightin
4:00 PM | LIFE SAFETY: NEW NFPA 101 FOR 2018, EFFECTIVE 2020
New changes

Hazardous materials protection

New occupant load factors

New requirement for carbon monoxide detection

New door locking regulations

New regulation for healthcare and ambulatory care

Video monitoring on stairs in high rise buildings

Wall marking