JOB POSTINGS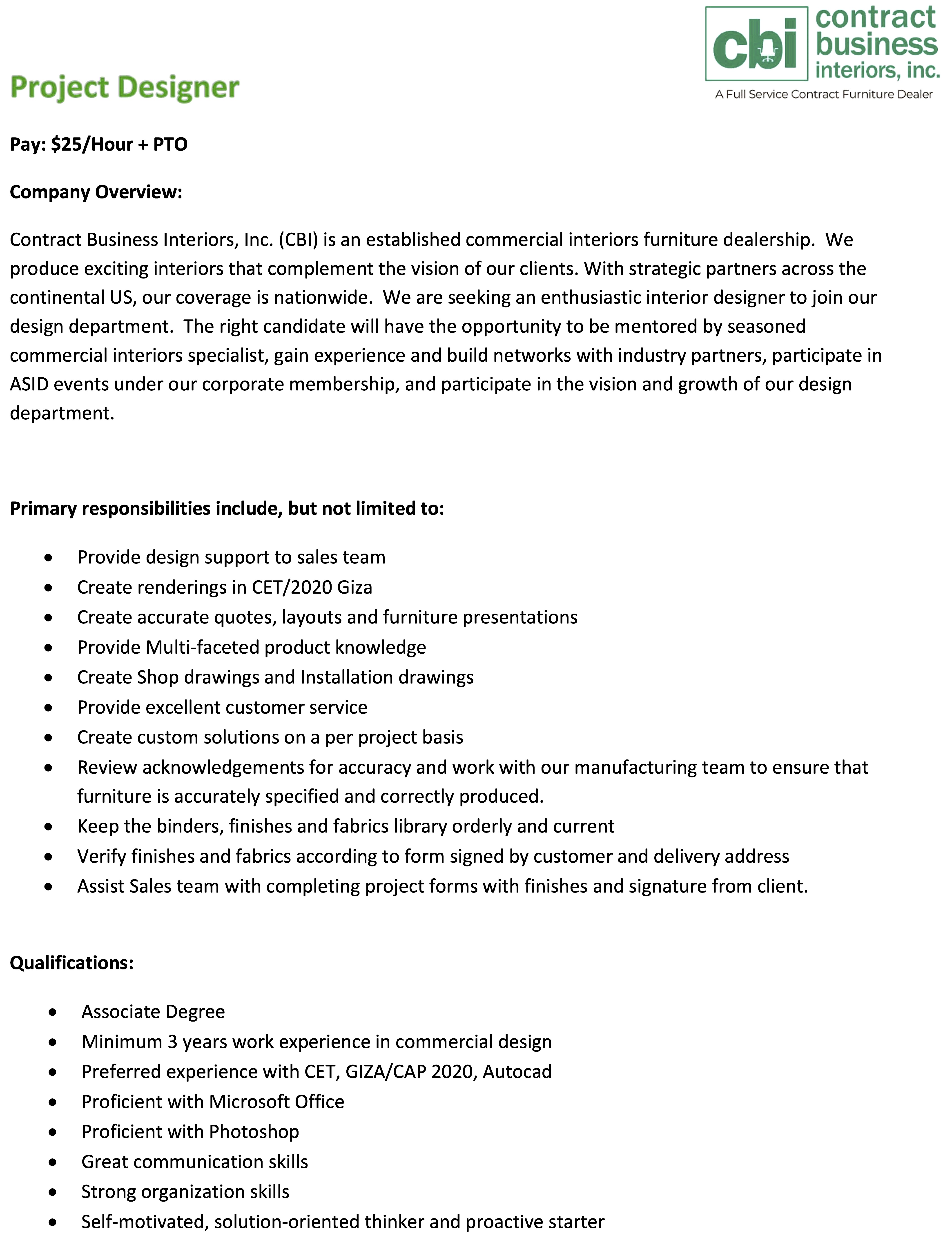 Please send resume and cover letter to:
Hassan Hagood
VP Sales & Marketing
Hassan@contractbusinessinteriors.com
---
POSITION: SENIOR INTERIOR DESIGNER
StudioTrimble is seeking a full time, NCIDQ or NCARB certified Designer/Architect to join our team in the beautiful, serene North Georgia Mountain town of Blue Ridge. This charming town has been ranked by many lifestyle magazines as one of the most desirable US Cities to retire to and has long been a favorite 2nd home and resort town for many across the US. Travelers Magazines are now referring to Blue Ridge as the "Aspen of the South." Blue Ridge, GA is 1.5 hours north of Atlanta, GA, 1.5 hours east of Chattanooga and 2 hours south of Knoxville (these cities have our local airports.)
ABOUT US
StudioTrimble celebrated its 30-year anniversary in 2022 and was founded in 1992 in Atlanta, GA by Cindy Trimble, ASID, RID, NCIDQ. The Studio has been the recipient of numerous local and national design and lifestyle awards in addition to being published in many magazines. StudioTrimble relocated to Blue Ridge, GA in 2002 following the 9-11 National crisis. The firm is and has been the only design Studio in the region with a Registered Interior Designer which has helped the firm secure many high-profile projects.
After relocating to Blue Ridge, the Studio expanded their design services to include not only commercial and residential interior design services, and complete home design services, but grew one of the largest furniture dealerships in North Georgia to be able to provide top quality furniture, furnishing, lighting, flooring, and many other products to their clients. 15 years ago, StudioTrimble introduced our 1st e-commerce website www.thenewrustic.com. Our 2nd e-commerce website is currently under development www.thecoastalhouse.com.10 years ago, the Studio started Blind & Shutter Worx which is a window shade, shutter, blind and window covering subsidiary. 1 year ago, the Studio moved to a new building in downtown Blue Ridge and expanded again to represent several in-house cabinet lines complete with cabinet and hardware displays.
Projects are located primarily in North Georgia, Southeast Tennessee, and Southwest North Carolina however we produce projects across the US. Our project types are very diverse and include both residential and commercial. Residential includes both single family (whole house design - ground up, renovations & expansions) to multi family. Commercial projects include retail, hospitality, mixed use, medical and dental offices, industrial offices, clubhouses, funeral homes and more. Our Studio is unique in that we provide both design and purchasing services to our clients. Unlike other Design Studios, we provide total turnkey services to our clients from ground up design of their houses to complete furnishing with a "Move that Bus" experience. Our new Design Studio also showcases a fully stocked resource showroom, warehouse and state of the art office and meeting space.
JOB DESCRIPTION
The Senior Designer will be responsible for producing high quality project design deliverables and must be capable of working on all phases of our projects including Pre-Design, Schematic Design, Design Development, Construction Documents and Construction Administration. Project presentations include both 2-D and 3-D rendered drawings. This person will report to the owner of the company on tasks and deliverables and work directly with her to ensure the facilitation of a project's production and that all work adheres to the StudioTrimble quality standards. Additionally, the Senior Designer will coordinate with the entire staff including student interns, other designers, our subsidiaries and our financial and purchasing staff. This position will assist the owner with marketing, office operations, public relations, office business plan and strategic plan development. This designer should have experience with troubleshooting project problems, researching alternate options with project challenges and being a team leader. A working knowledge of fire and life safety codes is required since we work closely with the state Fire Marshall and local building code officials.
StudioTrimble's design team may attend furniture markets (High Point & Atlanta) and we do what we can to stay in touch with the interior design industry trends and styles. (Expenses paid by company) To maintain all registration and licensing requirements, StudioTrimble schedules regular CEU classes for all staff that may be either in house or in Atlanta. Participation in industry professional organizations is encouraged. (Memberships, education class tuition paid by company).
Since relocating to Blue Ridge, StudioTrimble has been very involved with the local Community. The Studio produces at least one pro-bono project a year and supports Habitat for Humanity, Family Connection, North Ga. Family Crisis Network, Empty Stocking, Blue Ridge Humane Society, Second Wind Cancer Retreat, and all local Church's. Employees are encouraged and supported to get involved in our community.
JOB REQUIREMENTS
Full working knowledge of Auto Cad, Revit, Sketch Up, In Design

Full working knowledge of Microsoft Office Suite

Knowledge of Google Workspace, Dropbox

Knowledge of Wordpress a bonus (for e-commerce websites.)

Knowledge of 20/20 software a bonus (cabinet design)

Project Management skills

Minimum 8 years' experience working in a design firm.

NCIDQ (or NCARB) certified.
JOB DETAILS
Full Time Position, 40-hour weeks.

Very little overtime, working on Saturdays, is required only if there is an emergency and is scheduled with clients by appointment only.

Very little travel if any.

Ownership / Partnership opportunity.

Being a small business of less than 5 employees, we do not have the ability to offer full scale benefit plans, however we offer premium reimbursements to our employees for individual medical plans.

Personal Time Off (includes vacation, sick time, and personal time off) will accrue to 15 days paid leave per year.

All major holidays are recognized.

For some projects located on Lake Blue Ridge, when the weather is nice, we will take our pontoon to the jobsite!! It's a tough way to travel to work but someone has to do it!!
Please send your resume and cover letter to:
Cindy Trimble, ASID, RID, NCIDQ
StudioTrimble, Inc.
(706) 946-2030 studio
(706) 455-0216 cell