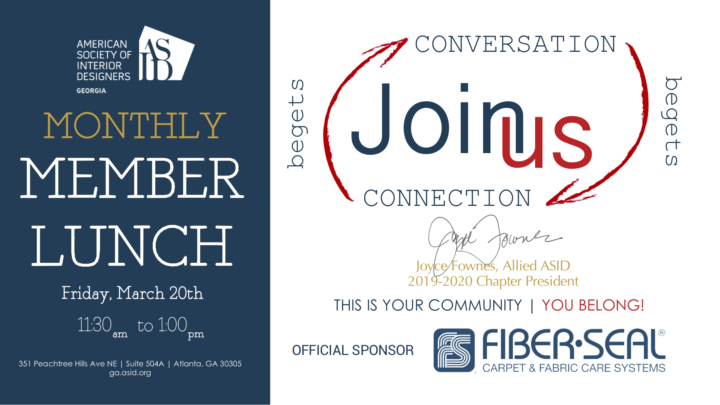 MARCH LUNCH WITH THE PRESIDENT
Description
Lunch With ASID GA Chapter President!
Joyce Fownes, Allied ASID | 2019-2020 Chapter President
Friday, March 20th
11:30 am to 1:00 pm
Members & Non-Members Are Welcome
ASID Georgia is committed to advancing our profession, promoting the value of
interior design and its positive and transformational impact on lives. Your
membership gives you the opportunity to actively participate in our
community and industry, further develop your insights into all areas of design,
and more importantly, make connections with others in your field.
Your involvement is extremely important to us! We work to continuously improve the
Georgia Chapter and want you to feel that your membership is about more than paying
a membership fee. Put simply, you make what we do possible and we wish to
make your membership in ASID Georgia more of an investment.
As a way to introduce ourselves and to learn more about you,
please join us for our monthly Member lunch!
ASID Chapter office located in ADAC, Suite 504A
On behalf of the ASID Georgia Board, we thank you again you for choosing
to become a member of ASID Georgia and look forward to seeing you soon.
Please REGISTER