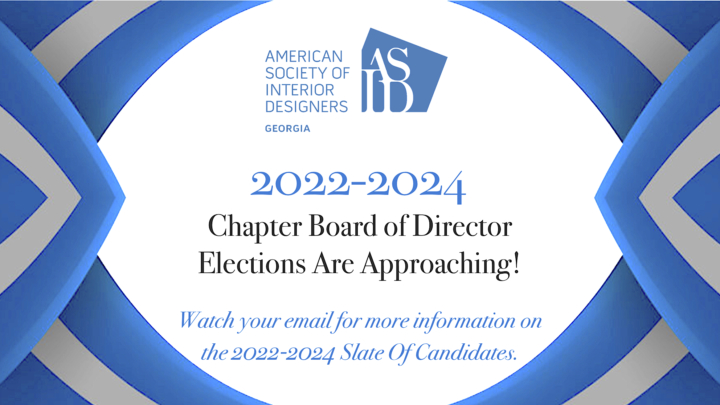 CHAPTER ELECTIONS | BOARD OF DIRECTORS
Description
The ASID Georgia Chapter Board Elections will be held from January 15, 2022 to January 25, 2022. Our Nominating Committee is finalizing its work on the Slate of Candidates so watch your email for additional information.
Ballots will be emailed on January 15, 2022 to the Chapter's Professional, Allied, Educator, Associate, and Industry Partner members in good standing.
If you prefer to receive a printed ballot, the Administrator will need to be notified by January 5, 2022. Contact Keigh Hamilton at administrator@ga.asid.org or phone 404-231-3938.
Official election results will be announced no later than March 1, 2022.
Below is a list of open Board vacancies for the upcoming elections, terms begin October 1, 2022:
President-Elect | 2022-2023
At-Large Director | 2022 – 2024
Membership Director | 2022 – 2024
Current Board members whose terms do not expire and will be continuing until that time, are:
President Elect, Tara Rae Hill, ASID (moving into President's position)

Communications, Director, Margaret Nysewander, ASID

Finance Director, Derrick Rowe, ASID

Professional Development Director, Karen McCallum, ASID

Student Affairs Chair, Chad Wilkey, ASID

Emerging Professional Affairs Chair, Jason Gray, Allied ASID
If you would like to nominate a member to serve on the Board or nominate yourself, please send your resume and cover let to Tony Purvis, ASID, ASID Georgia Nominating Committee Chair, at apurvis@scad.edu.
CANDIDATE ELIGIBILITY REQUIREMENTS
President-elect
Members with the appellation of ASID or Allied ASID and;

Must have served on the chapter board within the last 10 years, or

Must have served as a committee chair for two years within the last 10 years or be approved by Special Dispensation by the Chapter Support Team.
Directors
Candidate must be a member in good standing with the appellation of ASID, Allied ASID, or Industry Partner members, in good standing, are eligible for director positions.